Black dogs
Sanctuary angels
Sandra's stories of the animals we saved and miss
Nova
Someone should be your number 1, and the lovely Nova was mine. I brought her home as a puppy without asking my parents when I was 16, since she would actually have been sold to an addict. She turned 15 years old and was for a long time my great inspiration to work with dogs. She showed me the way!
Memory: When she fell asleep and stopped breathing, she was gone for a few minutes, then she woke up and went to the kitchen and stole a cinnamon bun and ate it. Then she fell asleep for good. Some things you simply just want to have ticked off your "bucket list" before you die!
Banko
When I saw the picture of him appear in my social media feed, I thought it was a raw piece of meat I was looking at but it was Banko's torn head. He was old, blind and deaf and had been subjected to a major attack in which half of his head was torn off. He had a great time here in safety.
Memory: Because he liked to be outside in all weather, he had to wear his "bathrobe" during cold seasons. He used to "sing songs" outside, as if he was shouting for the love of his life. He was a cute old man in a bathrobe who sang his songs!
MaLaLa
Another real Black Dog – 6 years old, skinny, completely blind, with newly diagnosed diabetes, spondylosis and bad hips. She needed daily injections and many vet visits. Her life was far too short, but she lived well here, becoming a mischievous dog.
Memory: On our vet visits they took samples due to her diabetes, and we often had to wait for the results for a while. She always fell asleep on the examination table while I patted her. These were nice moments and it was comforting that she felt relaxed.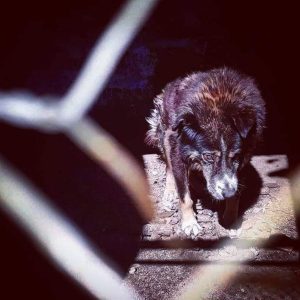 Birk
Birk was worn, old, lay on concrete and had no spark left in his eyes. He turned out to be around 13 years old and was diagnosed with cushings and was almost blind. He obviously got to be a sanctuary dog ​​and boy did he enjoy his last senior year here, when his old body finally got to lie on something soft, and be loved for a year.
Memory: He always barked angrily at close-ups of the protagonist of CSI – the man with red hair, when he saw him on TV, but rarely at anyone else. However, when he saw the Melodifestivalen (a Swedish song contest) and everyone was happy and sang, he used to sing along and wave his tail a lot and seemed very happy. He didn't care too much about other shows though.
Tia
Tia was an older husky who was dumped by her heartless owners – they abandoned their 12-year-old dog without even shedding a tear. Confused and alone, she was taken to the sanctuary and really enjoyed life here. Never again abandoned, and always and forever loved by us. She was like a puppy until she got a cancerous tumor in her nose.
Memory: I have decorated with a large bed and cozy blankets under the stairs, and it is all the dogs' favorite spot. First come first serve though – except when Bubben was still alive – he stepped straight into the little cottage and Tia was ready to mutter to the intruder, but then decided that it was cozy to have company. I often found the two of them in there, sleeping side by side.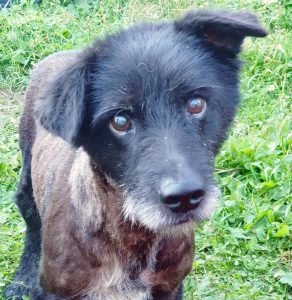 Totti
When Totti came, it was said that he was eight years old. The idea was that he would get a home. But he showed serious self-harming behaviours and during a closer inspection of his back we saw that the spine was broken in one place. He was probably rather around 11 years old, and in such great pain that we could do no more than give him a few weeks of love and care.
Memory: Upon his arrival he loved eye contact and he could look straight into one's eyes and just soak up love from people, even though they once did him so much harm (his injury was probably caused by human hand or foot). He was incredibly empathetic, kind and trusting towards everyone, despite everything he had been through in life.
Aila
Aila was our first Black Dog. Abandoned, and without her mother as a puppy, she became traumatized and developed severe PTSD. She was so scared that she did not dare move, and peed and pooped on the spot when she got scared. She was rehabilitated here and eventually became a happy dog ​​who handled the world well, lived with good dog friends and was loved and safe. She died from skin cancer.
Memory: Scared dogs want control and routines, which means that they are very firm in their behaviours linked to different situations. When we were about to jump into the car, she was so set on just that movement that I only had time to open the boot lid but not the dog cage, but that did not stop her – she jumped up and stood and balanced on the small edge and looked surprised. Each time, always just as surprised!
Gubben (Old man)
Gubben came here when his mother was murdered. Loyal, he lay by his dead mother's side before he came out of there completely bloody. He came to the sanctuary at the age of 12, and it was as if he could finally breathe a sigh of relief. Burn marks from cigarettes and other things testified of his hard life. He only lived here for seven days before falling asleep quietly, surrounded by dogs and love.
Memory: Gubben was by no means a small boy, he was overweight and could barely stand up from laying down. The coat was dull and the skin was scarred, so I decided to cut it down a bit, to inspect the condition of the skin, and to cut off his past. When he was freshly cut, he felt so light and free that for the first time he jumped up on the sofa and fell asleep at my feet with a deep sigh.
Taini
Taini was never meant for us to save. She already had a home waiting for her which completely unlovingly changed their mind when she had already packed her bag. It was the third time she was abandoned when she was promised a loving family, so we couldn't say no to her. We received her and she became everyone's therapy dog ​​– a fantastic dog who died far too young.
Memory: Taini had fantastic body language and an even richer expression – she had full control over every muscle in her face and could easily show lots of different feelings and thoughts to other dogs and people. She would have become a fantastic actor and could've had her own book full of memes with her face (just look at the picture above – what do you think she's trying to tell you?)
BUBS BUBSSON
Bubben was completely blind, deaf and weak. He staggered and had bad teeth. He lived in the sanctuary for almost a year, where he managed to become stronger in body and more painless. He lived with kind dogs and was always warm and caring. He was about to move to his own family in his last senior year, but at the age of 12 he became too old for a new life.
Memory: Despite poor hearing and sight, he always had full control of where the cats were in the house. He must have had a fantastic nose – that sense was absolutely no cat-astrophy! He followed the cats wherever they went and if they jumped up on something he sat there and philosophized for a while.
Uncle Bjärven
I asked: Who needs me the most? And then he appeared. 12 years old, he had lived on the same concrete square all his life when he came to the sanctuary. He became like a new dog and managed for another four years, as an alert and grateful senior. He fell asleep just before his 16th birthday, when his epilepsy began to get worse and his body could no longer cope.
Memory: When Uncle had lived here for a while, he gradually became stronger and one day he could start running for the first time again. He looked incredibly happy, but of course he was a bit stiff – he looked mostly like a rocking horse and not a trotting horse when he galloped.
Modig (brave)
Of course, you can't help black dogs without also being allowed to help black cats, who are just as unwanted. Through a collaboration with Växjö homeless cats, which we are often a foster home for, two rescued and neglected black cat brothers stayed here at the sanctuary. They had lived in the sanctuary with me and the dogs for five years, when Modig unfortunately died and left his brother.
Memory: When Modig had just moved here, I had a small dog that went straight to the frightened cats hiding under the bed, kissed them on the nose, and walked away. When new dogs came and Modig had become braver he did the same to them!
Captain Nemo
Nemo came from a tourist business in the north of Sweden where he worked hard. The younger dogs found new homes, but the senior Nemo was left, with a large tumor. He came here and met a veterinarian who said that it was too late to do a successful surgery but that he didn't suffer from it. He got one year at the sanctuary until it was time for the good-natured captain to pass on.
Memory: Nemo had an incredible kindness and dignity, something that many huskies have, and he was a fantastic "father" to many young dogs and puppies who came to the rescue. He was patient, playful and careful, and gave so much security. A real father figure to scared little dogs.
Max
Amidst the deafening sound of 500 dogs barking at the Polish shelter, a nose came up to the fence, and as I crouch down I hear behind my back from the staff: "He's 17 years old". I'm not going to take any more dogs now, I answered, but I wished he could come with me. He really is a Black Dog – he shouldn't have to live and die here on the concrete floor.
I went home but couldn't stop thinking about his toothless mouth, the small lip that seemed to hang due to some trauma, the thin body and the eyes that said they wanted more: "Take me with you". So I decided that he should come home. Quickly the old body became young again, and his mind like a puppy's. He defied his age and gave his all to live his life to the max. He only got a few months here before he fell safely into sleep, but it was worth not having to watch him die alone on cold concrete.
Donate in the memory of someone
We have rescued, loved and followed many dogs to their final rest. But first, they have experienced security, warmth, care and becoming the most beloved family members. Sometimes for the first time in their lives. We save the unwanted and the unloved, and many fates are poignant. Feel free to donate in a dog's memory, so we can continue to save dogs like these!
Plusgiro: 75 79 93-5
Swish: 123 133 66 92
Paypal: info@blackdogfoundation.se