We rescue, rehabilitate & rehome dogs
We have been a foster home and rehabilitated dogs since 2015 and helped over 500 animals, despite that we are a very small association in terms of income. We collaborate with other associations that share our goals of rescuing dogs and offer them boarding places as a foster home, and rehoming a small number of dogs each year.
Since 2020, when the business moved to a large farm in the forests of Småland, the board decided to invest more in our sanctuary for seniors since there is no such place for older dogs in Sweden. With this new goal, we are looking for sponsors who want to sponsor the seniors' livelihood and care here.
Our founder Sandra Tigerlind is a dog behaviourist specializing in scared, insecure and traumatized dogs – both from Sweden and other countries, and she is the one who works with and trains the dogs at the rescue. Sandra also holds courses and private training, especially for owners of adopted dogs.
The idea of ​​starting a sanctuary and not just working with rehoming came after many cries of distress for older dogs who remained unacknowledged. In their very last time in life, they were left to their fate and nothing could be more inhumane. There was no such sanctuary of its kind in Sweden, so it became a given to start one to take care of all the unwanted and unloved dogs who would never have had a chance without the sanctuary. Here they can live as beloved family members, and thanks to your donations they can get the care, medication and rehabilitation they need for life.
What drives us
Our motivation
Black Dog is a non-profit association in Orrefors that saves dogs in various ways. Black Dog is a metaphor for the unwanted (usually black) dogs that are always adopted last, if at all, as well as those who are older or a little broken. We realized that no one in Sweden took care of these dogs. This is why we are investing heavily in our senior sanctuary where old dogs are allowed to live for the rest of their lives or in the final stages of life – dogs that no one else wants to take on due to the limited time they have together. In other other words – those who really need someone the most. THEY are our black dogs and the idea that they will be loved and cared for, perhaps for the first time in their lives, right up to their last breath, is our greatest motivation to be able to help these dogs from suffering, although it often means a lot of sadness for us.
Would you like to become a sponsor for a specific animal at the sanctuary? You can now become a monthly sponsor via Patreon Go to the link, select the "Djurfadder" tier and enter payment information and the amount will be deducted monthly. You can cancel your monthly payments at any time.
Lillefot (Littlefoot)
Lillefot, or "Lillen", is our three-legged sanctuary dog ​​who is always happy, despite his disability. He sees no obstacles in life, and shows us every day how to take care of life and live in the present.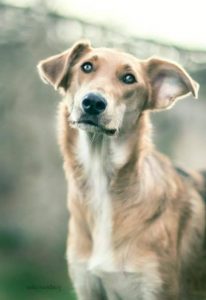 Teijo
Teijo is our magical being, our therapy dog. With his calm and social way, he helps our shy dogs to bloom. He's a great help in the rehabilitation of all dogs, and we would be nothing without our "Therapy Teijo"!
Cilla
Cilla is completely blind but you hardly notice it. She is outgoing, brave and navigates her surroundings without problems. She really shows the world that dogs' senses are completely superior to ours.
The cats
The cats we receive come from either neglect or homelessness, and they are often the least wanted and most scared. At the sanctuary they get to grow at their own pace and all of them eventually become social, cozy individuals as long as you treat them with love and respect. We have three black cats, Stig, Lycka and Leo, and last but not least, the queen, Diana.
The sheep, minou, mille and märta
The sheep – some adults, some old, and a little lamb – came here in the summer of 2021, rehomed because of neglect and abuse. The condition of the sheep was bad and they were scared and lacking in initiative, overweight, and with overgrown hooves. After a few months with the right food, great sheep pasture, and love, they are as curious and mischievous as the dogs here. They are real characters, and the little sweet lamb is now the king of the farm, completely fearless and wants to be admired and rule over his kingdom. The sheep are named Minou, Mille and Märta.
Benny
When I asked who was the oldest and who had lived there the longest, they answered "Benny". 14 years old, he had lived basically his whole life in a shelter, with minimal prospects of getting a home. Unfamiliar with the world, the warmth and soft beds, he quickly adapted to life at the sanctuary, maybe the quickest of all who have been here. To realize after 14 years that you can be loved and cared for and avoid suffering, avoid freezing, avoid dying alone, yes, it made all the difference and he is such a happy little senior now and is bursting with the joy of life.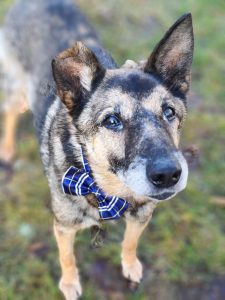 Björn
When Benny was coming here, someone mentioned that he lived with a friend. The friend was also a senior, 12 years old and had also lived there for most of his life. It was impossible to say that one would get a better life and leave the other, so Björn also had to come to the sanctuary. He is a senior with such a friendly soul. His whole aura shines with warmth and goodness, and even though he was a little more stressed by the move, it is now as if he has lived here all his life. So grateful and so loving. His thin body testifies to many years of hard struggle and pain, but when he got help with it, he became a new dog and enjoys every day here.
The goats: Sol, saga and spira
In September 2022, we were joined by these sweet little goats! A mother goat and her two baby goats get to live in peace alongside our other animals, and in return they help us keep the pastures trimmed and tidy!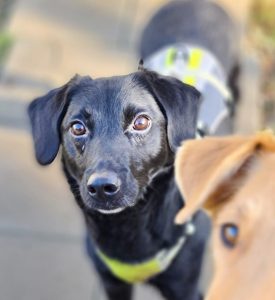 Toumai (Apanson)
Toumai was the dog that not even we saw. We were there to pick up an old, shut down dog of 13 years who was completely fragile with empty eyes after a lifetime on a few square meters of concrete. But when we took her with us, someone said "but then her scared son will stay here alone". Apparently he had also lived there trapped all his life, too afraid to even move, and he knew no other life than on the concrete. We didn't have the heart to separate them so he also had to come with us to the sanctuary. His mother, Little Mama, was in palliative care here when we found out she had advanced cancer when we got home, but we promised her we would do our best for her son. He also proved to have his challenges, with a leg that had previously been crushed and broken in some way and not quite able to heal normally. He is under further investigation regarding how we can save his leg. His mother has fallen asleep, but he lives on and takes the chance she never had.
Vilde
Vilde was the dog that had been loved, but was unlucky. He lived most of his life as a draft dog in the industry until his owner got a serious illness where he urgently had to get rid of all his dogs. Vilde came to a new home, where he had to continue drafting and living in a kennel, i.e. the life he was used to. But this would not be his last home either. Due to a separation in the family, they had to sell the farm and couldn't possibly bring all the kennel dogs to the apartment, and he had to end up being re-homed again. Since he was already a senior, there was little chance that anyone would stand up for him again, so we brought him here. We took a "younger" dog for once – Vilde was supposed to be 11 years old but it turned out in the passport that he was 13 (the owner must have forgotten a few years). Well, all the more he was a real Black Dog and now he's here and has forgotten constantly living outdoors. He loves to sleep right on top of people in bed at night and is incredibly lovable.
Harry
Harry was rescued when he was three years old from a shelter in Spain by his German owner. He spent 16 years with his owner, who now had to return to his home country and could not afford the care and support an older gentleman like Harry needed. They sent out a distress call to Black Dog, and of course, we answered.
We picked up Harry when he was 19 years old from his former owner. We call him Dynamite Harry because despite his highly respectable age, there is still a lot of will and life in the old man. Harry is a real charmer, though a selective one.
Pluttan
We adopted Pluttan when she was 16 years old from her owners, who had had her since she was eight weeks old. Due to health reasons, the owners needed to move to a retirement home, and since it is extremely uncommon in Sweden to be allowed to bring pets to such facilities, they had no choice but to seek an alternative for Pluttan.
Pluttan is a very charming and sweet lady who loves toys. As long as Pluttan wants and is able to, we will make sure that her owners can enjoy a peaceful cup of coffee at the retirement home, knowing that their furry soulmate is in safe hands for the rest of her life.
Misha
Misha from Ireland is over 10 years old and was shamefully abandoned by heartless owners who probably traded her for a younger dog. She was left at a dog shelter, and after just a few days, she was at risk of being euthanized as she was considered forever unwanted. She was rescued by our friends at Husky Rescue, and we decided to drive all the way to Ireland to bring her home. Misha is a typical "backyard dog" who has been excluded, under-stimulated, and has spent her days dreaming of affection and food. She is making up for it now at our sanctuary, eager for cuddles and treats.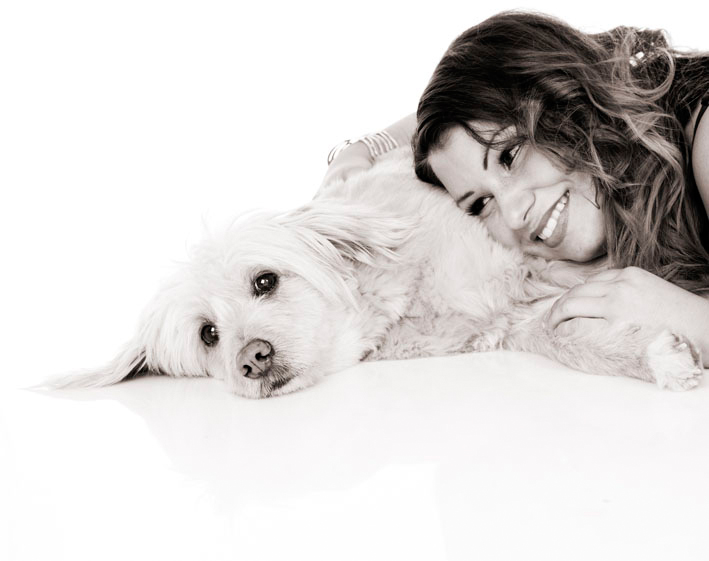 Our founder Sandra Tigerlind is a trained and specialized dog behaviourist with a focus on scared, insecure and traumatized dogs – both Swedish and foreign rescues. She has rehabilitated dogs from approx. 15 different countries, from different continents, and has extensive knowledge of cultures and dog types that are not as common in Sweden. She is the one who works with and evaluates the dogs within the association – not only those who will be rehomed through Black Dog, but also helping other associations that rehome dogs and who temporarily place their dogs in the boarding home at the rescue.
Sandra is working full-time at the sanctuary/rescue but also helps private individuals with consultations, lectures and courses – especially since we know that, with challenges that can arise with an adopted dog, it can feel lonely which many do not understand. In the event that you as a family are helped with your dog's problems, the need of rehoming decreases, which is often the best thing for the dogs in the long run. That is why Sandra offers her services to others. All profits go to the dogs at the rescue! When you book private training or take her online courses, you are also supporting the rescue and sanctuary. It's a win-win situation!
Read more about her knowledge, education and experience at www.hunddjuristen.se.